Puppies
A lot of hard work, time and careful planning, is taken in preparing for an anticipated litter at Airebis.

Our passion and love for this breed is reflected in our breeding; Airebis believes sound puppies with excellent outgoing personalities, robust health, and glamous looks are important. And we strive to achieve this is every litter! Our babies are raised in our family environment surrounded by visiting friends with small children and family and our two cats and a rabbit.
We cuddle them from birth, this helps ensure that you get a well socialised addition to your family. Breeding and raising dogs is a labour of love, and we are pleased to have the opportunity to share our love and enthusiasm for this breathtaking breed with you.
We research pedigrees and when available assess the offspring a dog is producing prior to mating one of our girls, to helps ensure we breed the standard of puppies we have benchmarked we want to produce in our breeding program. Our stud dogs are only available to approved bitches who are of similar quality to our own and have been hip x-rayed and scored.
Our goal is continual improvement and to maintain the high standard we have set for our kennel. That high standard includes breeding healthy, intelligent dogs, and free of defects. We work hard to insure that all of our breeding stock is certified free of Hip Dysplasia and other inheritable defects.

We want to make sure you and the puppy are right for each other and the puppy will receive a lifetime of love and care it deserves. We take a lot of time placing puppies. Not everyone who requests a dog will qualify for one.
Breeding dogs should not be viewed as a simple task and we take puppy raising very seriously. In that endeavour please do not be offended when we ask a lot of questions about your family and your lifestyle, we do this in everyone's best interest in trying to determine if a puppy is a good match for you and vice versa.
The Samoyed is a beautiful dog with a wonderful temperament. Samoyeds are excellent family companions. They are extremely trustworthy, and affectionate to all mankind. They must be included in all aspects of the family life, they are not just a dog but are a four legged member of your family.
If this is how you view a future addition to your family, then we welcome your inquiry about raising and providing a forever home to an outstanding and loving Samoyed puppy.
Please contact us if you wish to have a gorgeous healthy pet or a top show dog.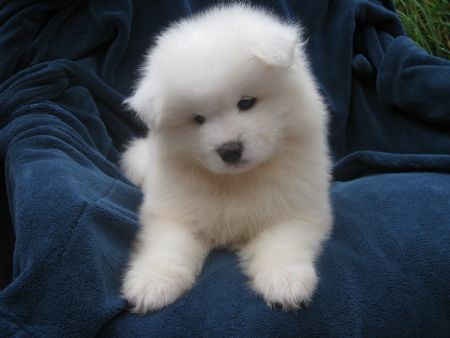 If you are interested in making an Airebis Samoyed an addition to your family,
please contact us to be placed on our waiting list.
*** Airebis Puppies ***
All our puppies are at a minimum first vaccinated, micro-chipped, 3-4 dewormed,
blood tested, vet checked, a 5 generation pedigree (family tree) is provided and
YOU RECEIVE A COPY OF THE PARENTS HEALTH RESULTS
and the puppy is registered with the Dogs Vic before going to their new forever homes.

Lifetime advice & support regarding training, grooming and feeding.
(We love receiving updates and photo's of how Airebis Samoyeds are going)

We also supply the correct comb, brush and a lead for your puppy.

We ensure both the Mother and Father are hip scored, eye tested & health checked prior to breeding.
Our girls have low hip scores and "clear" eyes and fabulous gonioscopy results and this is something we are proud of.

All puppies are raised and socialised with love, respect and knowledge!
View Facebook Album for more photos- Airebis Samoyeds
Welcome to our Puppy Photo Album.
Click each link to view larger photo.
(Javascript needs to be enabled on your browser)
| | | |
| --- | --- | --- |
| | Coco's Moonlite Litter 8 weeks | Coco's Moonlite Litter 8 weeks |