Activities with the Sams

Samoyeds are amazing and very intelligent animals. It can at times be challenging to compete in dog sports with a Samoyed but if you dare it is also extremely rewarding. A Sammy's love is like no other and life without a samoyed would be extremely boring if you ask me.

Although we love the show ring, Shimmer and I very much enjoy spending quality time doing many things together. I believe it is important as a breeder not just to exhibit in the show ring, but also take the challenge and get involved in other areas of the dog world. It is very interesting watching different breeds work. The knowledge, skills and insite gained from other activites is amazing, inspiring and extremely rewarding. I love every minute and I know my dogs do too.
Shimmer is the main samoyed I explore other activites with, but I do teach our other sammys at home different things I have learn't along the way. Gaining knowledge and perfecting skills is the key to success.

If you have any questions or would like to know more about the sports we are involved in please do not hesitate to email me at [email protected] I would be more than happy to answer your questions.



Kellie & Shimmer love agility
Shimmer doesn't complete in agility but she loves training.

Agility is a fast, exciting, and fun activity that we both enjoy. The obstacles comprise of various types of jumps, ramps, elevated walks, poles that the dogs weave through, different types of tunnels and a see-saw.

Shimmer and I have met some lovely people and wonderful dogs at agility. Shimmeroo has an abundance of energy and is very excited when we arrive at training. The A frame is currently her favourite activity. Agility training allows Shimmer to improve her balancing skills as well as challenges her to think and react quickly to jumps and tunnels.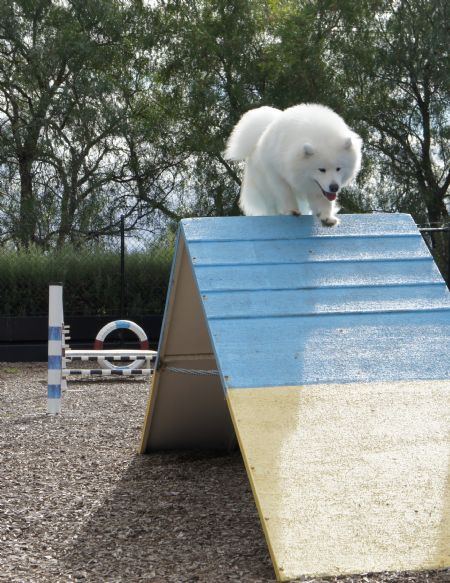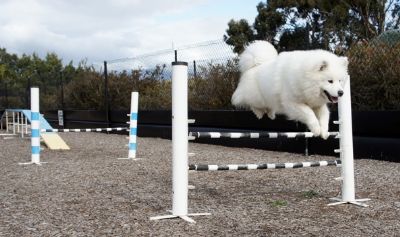 Kellie enjoys herding with Shimmer & Inka
I decided to embark on the aspect of developing the herding instinct with our dogs that is inherent in the Samoyed. herding is a great stimulation for the dogs and they have a ball. It is also great socialisation for them. Shimmer thrives on this as she is not only a very feminine pretty girl, with excellent movement and a champion in the show ring but she is also very intellegent and a social butterfly, Inka is extremely smart at herding and can move the sheep with little to no instruction.
Shimmer and Inka passed their Herding Instinct Test (first time) on Sunday 26 April 2009,
so they are now able to complete at the herding trials, unfortunately due to other comittments they have been unable to attend any trials, but hopes to compete in start of 2013.
Due to my knee injury (torn ACL currently awaiting surgery) I haven't been able to train or run the dogs on sheep, as the ground is often uneven and the sheep can be unpredicable.

Inka
Aust Ch. Airebis Chase the Moonlite HIC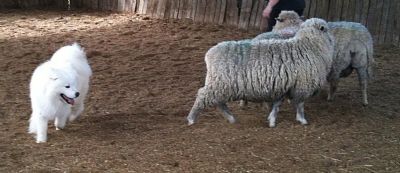 &
Shimmer
Aust Ch. Airebis Kissed by Moonlite HIC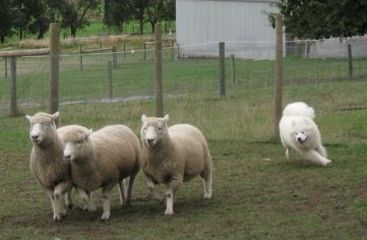 Kellie & Shimmer "Dancing"
Shimmer naturally dances with excitement and with her bag of party tricks, I decided to get involved in dancing with dogs.

There are two streams of competition; heelwork to music and freestyle. Both streams are technically challenging and can draw on skills from other areas of expertise to increase the technical merit of a routine. This sport is quite challenging regardless of the stream you choose, it involves training and perfecting dance moves and skills, you choreograph a routine to your chosen music and design a costume to tie it all together.

Shimmer & Kellie just have fun, but have not competed.

Kellie & Shimmer "RallyO"
Rally Obedience is a fun sport where you and your dog work together as a team performing various exercises in a more informal and light-hearted manner than traditional obedience.

We were away on holidays and entered for fun, and we gained our first pass a score of "88". We decided to attend RallyO training at Bulla, and a couple of weeks later we gained our 3rd pass and have our Rally Novice Title. Shimmer loves it so much we continue to train and may even attempt Advance.


Click on the smaller photo's to enlarge
| | | |
| --- | --- | --- |
| Shim doing a good job | | |