~ Dannika


Multi Best in Show
Multi Runner Up Best in Show
Multi Best in Group Winner &
Multi Best Puppy in Show

Supreme Champion
Neuter Grand Champion
Airebis What Dreams R Made Of
Born: 8 July 2011
Hip score: R2 / L4 Total = 6
Elbows: R0 / L0 Total of 0
Eyes: "Normal" Gonioscopy 80% Open (very good)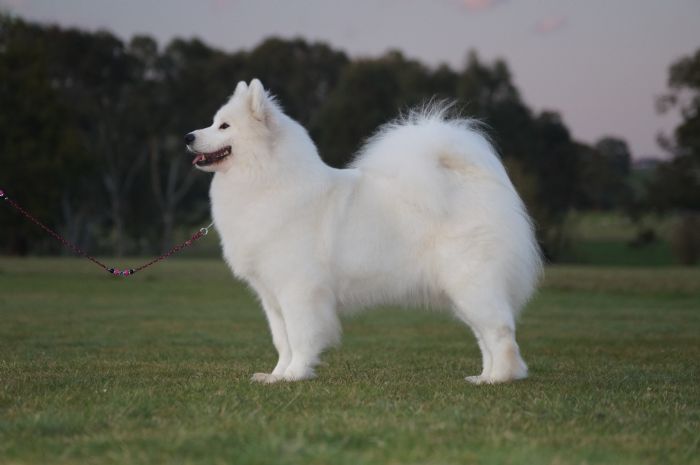 Dannika gained her Champion title at the age of 12 months and was awarded her Supreme Champion title in style winning Best Exhibit in Show All Breeds

Dannika is strong and active, she is an intelligent bitch and certainly full of action but loves giving cuddles on the couch. Her movement is effortless, she is extremely agile and moves with purpose. Dannika has proven herself countless times is the show ring winning Multiple Best in Show and Runner Up Best in Shows which is a credit to any bitch able to standout against the Males. She has also been awarded 10 Best in Groups under different judges and over 25 Runner Up Best in Groups.

Dannika has also passed her strength, and movement to her progengy and they are doing her proud. To date she is the Dam of 4 Australian Champions and 1 Australian Supreme Champion, also the youngest bitch to obtain the title (to date) and the first in Victoria. Dannika's progeny hold a brilliant show record which includes (but not limited to); Best Exhibit in Speciality Show, RU Best Exhibit in Speciality Show, Best Exhibit All Breeds, Multiple RU Best Exhibit in All Breeds, Runner Up Best Exhibit in Open Parade, Multiple Best Exhibit in Groups & Runner Up to Best Exhibit in Groups All Breeds, Best Puppy in Show at Melbourne Royal, the biggest show in the Southern Hemsphiere, Samoyed Puppy of the Year 2016.
Dannika is now Neutered and still loving the show ring. Gaining her title within 2 weekends and quickly gaining No.1 Neuter Samoyed Nationally when everything came to a holt due to Covid in 2020. Then 2021 has been No.1 Neuter All Breeds in Australia. So proud of her excitement of being in the ring, and how sound she is even at 10+ years.
**** News Flash ****
Dannika at 10 years old
No.1 Neuter in Australia All Breeds, 2021 All Systems
No.1 Neuter in Victoria All Breeds, 2021 All Systems
No.1 Neuter in Utility, 2021 All Systems
No.1 Samoyed Neuter in Australia, 2021 All Systems
~ * ~

Dannika at 11 years old
No.1 Neuter in Australia All Breeds, 2022 All Systems
No.1 Neuter in Utility, 2021 All Systems
No.1 Samoyed Neuter in Australia, 2021 All Systems

Dannika is the very proud mother of the Airebis "Love" kids
featuring:
​"Tamikka" Supreme Grand CH. Airebis I Will Always Love You
"Tneesha" Airebis Love Conquers All (Exp NZ)
​"Cy" Aust CH. Airebis The Essence of Love
​"Crosby' Airebis When I Fall in Love
"Tahleha" Aust CH. NZ Ch. Airebis Whisper I Love You
"Biscuit" Aust CH. Airebis I Love Cookies N Cream
"Gracie" Aust CH. Airebis You Made Me Love You
"Saxton" Aust CH. Airebis The Journey of Love
"Simba" Aust CH. Airebis Can You Feel The Love Tonight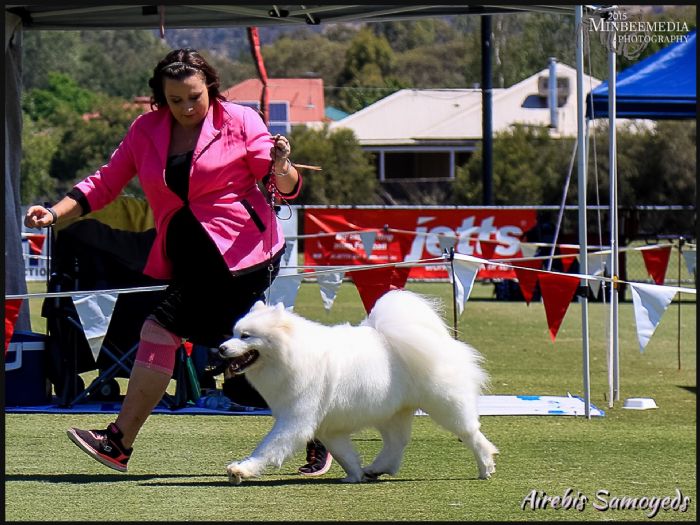 ​