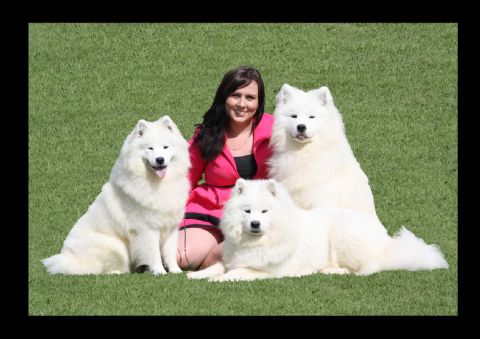 Kellie Hughes with from the left Shimmer, Coco and Inka
Photography by Zita
Welcome to Airebis Samoyeds
Est. 1981
A small selective kennel breeding only to improve the breed, with years of experience and watching what certain lines produce, asking many questions, spending many hours researching pedigree's, choosing the right mentors in our early years has helped in our careful
selection of lines which has resulted in developing our breeding program to breed Samoyeds true to breed type, Samoyeds with happy outgoing temperaments that are capable of doing the jobs that they were traditionally bred to do - including herding, endurance and to be loving companions.
All breeding dogs and bitches have their hips and elbows scored & eye's tested.
Quality isn't by chance...
Type, Balance & Soundness
is the very essence of our breeding program
Success is a journey and ours has been very rewarding!

An achievement
no other
Samoyed Australian Breeder
has succeeded in achieving...
We are extremely proud to be the
Only
Kennel to Win
Best in Show & Runner Up in Show
with two half brothers at the prestigious
~ The Australian Samoyed National Show ~
(The National only occurs once every three years in Australia)
Even though we are a very small kennel we have achieved BIG things, massive congratulations to
our National Speciality winners
2010 Best In Show -
Ch Airebis Moonlite Revezvous
Runner Up Best In Show -
Ch Airebis Moonlit Diamond Night (AI)
Airebis also won
Runner Up Best In Show in 2001
with
Ch Airebis Arctic Whisper "Tamiera"



~ ABOUT AIREBIS SAMOYEDS ~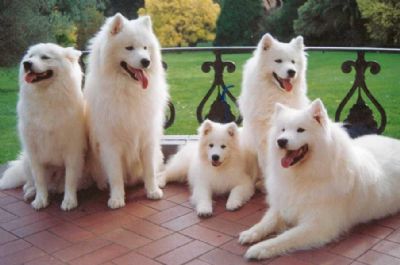 Our boutique kennel was developed through the love and admiration of this amazing breed.

We are located in the outskirts beautiful city of Melbourne, Victoria, Australia.

Our association with this captivating breed, the Samoyed has been a long and very satisfying journey,

this breed brings a smile to our faces every single day

They truly complete our family……Judy and Graham Hughes and our two beautiful daughters Kellie and Melanie.




My husband Graham and I both agreed that this was the breed for us, when we were married there was quite allot of discussion on which breed we would include in our family. I misunderstood Graham when he said he didn't want a large dog. Graham came home one day and announced that he had seen the most beautiful dog and wanted to know more about them. In doing the research it was revealed the dog was a Samoyed, this is one breed I had always admired and was delighted to discover that his idea of a large dog was a Great Dane etc.

Well that was the start of a wonderful life with Samoyeds.

Our first inclusion to our family was in 1981; Penny who was bought as a pet and companion to which she was until she left us at the ripe old age of almost 18 years old and although Samoyed are not exactly renowned for their retrieving skills, Penny played ball every day of her life. My sister Leonie loved Penny very much and said she was her special girl.

We respect and cherish the memories of our dogs whom have left us, each special in their own individual way are Jackson the singing dog, Novak, Rosie, Kiki, Mosco, Tika, Tyrone, Tamiera (Kellie's very special girl), Coco (the dam to many of our current show kids), Loki, and our rare and special gem Topaz. All who have all gone to rest but have left their unique mark. We have honored their memory on our "gone but not forgotten" page, please feel free to read their stories.

At present we have our beautiful
"Miss Shimmer" also known as Miss Roo or little lizzy,
" Miss Cherry" also Little Miss Diva but often called, Cherry Blossom, Cherry Ripe or Cherry Bomb
"Miss Dannika" aka Miss Fluffy Nickers,
"Mr Dane" the Mummy's boy (Judy's baby)
Joining the Airebis family are our imports "Mr Darvid" the big italian Teddy Bear "Bambino" (Imp Italy)

All have the unique little personalities, and funny quirks that we adore.


Kellie is a partner in the Airebis Kennel and is the main handler at all levels at the dog shows, she also enjoys training our dogs in agility, herding and recently dancing with dogs, she loves them with all her heart. We are a truly a small niche kennel and breed very selectively to dogs who are of similar quality to our own. We are very proud of all our achievements over the years and no matter whether we win the illustrious blue ribbon or not they are our an integral part of our family and we treat them as such.

It has been a privilege to have owned, exhibited & through breeding shared this unique breed with other families & owners.

They are truly a family companion dog & along with my husband & both our daughters Kellie & Melanie, we all agree we would never swap a minute of the fun, joy & excitement we have had as one of the custodians of the Samoyed breed.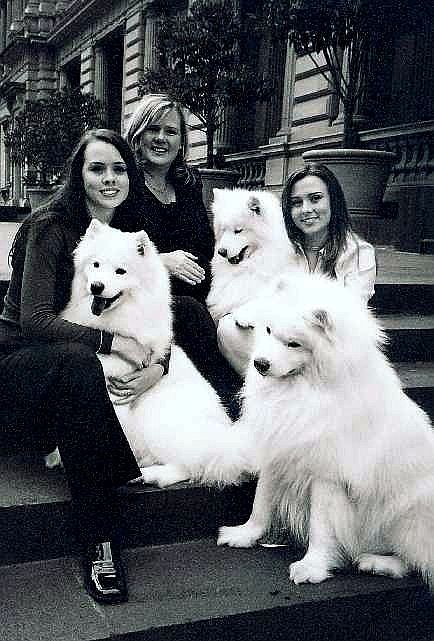 Melanie and Ch Airebis Love in the Mist "Tika"
Judy, Kellie and Ch Airebis Artic Whisper "Tamiera" and Ch Airebis Russian Roulette "Mosco"
Please feel free to click on our Guest Book to tell us what you think of our Samoyeds & website
I would like to acknowledge the dogs in the photo

Afternoon Tea Party are

our and our good friends Helen, John and Dawn

photo above left: Mezen Antartic Kiki, Ch Airebis Russian Roulette bred & owned by G & J Hughes

Snerzok Mardii owned by J & D Wilders

Mezen the Enchantress bred & owned by Helen Hill and Ch Snerzok Davushka bred & owned J & D Wilders Photo; By Judy Hughes

~
395912 Visitors